Brethren, Peace and Good to all of you.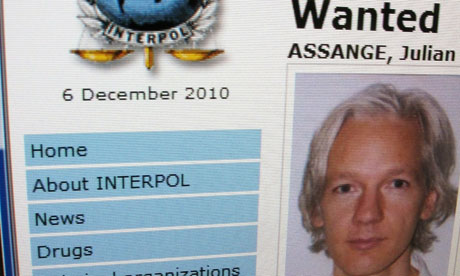 Assange's Interpol Wanted Notice
WikiLeaks' founder Julian Assange has never been a man I'd admired. In fact, I believe he belongs in jail, along with his naive protegé, Edward Snowden.
However, now Mr. Assange strayed into anti-Catholic bigotry
during a radio interview with the BBC
:
Assange likened contemporary mass surveillance to the way the Catholic church operated during the reformation. He said: "Through the confessional system the Catholic church spied upon the lives of its congregants. While Latin mass excluded most people who could not speak Latin from an understanding of the very system of thought that bound them.
Mr. Assange shares readily into the traditional anti-Catholic meme still pervading wide swaths of the Anglosphere. I am sure that his comments will resonate among the benighted and ignorant who think themselves sophisticated and smart. I also expect that the crowd who keeps a copy of Foxe's Book of Martyrs by their King James Bible will sheer as well, though probably without knowing exactly why.
Julian Assange belongs behind bars, not only for trading pilfered material he received from a thief, but also on suspicion of sexual assault in Norway, charges Mr. Assange dismiss as part of the U.S.-led conspiracy against him, but that deserve a day in court. That day will never come as along as Mr. Assange hides in the Ecuadorian embassy in Great Britain - Ecuador being another paragon of open information and great privacy laws in Latin America, where political dissent is also celebrated and rewarded. Irony of ironies, that's what all this is.
I pray that Julian Assange recognizes the value of confession and seeks it before the ultimate Judge calls him to account for his misdeeds.