Brethren, Peace and Good to all of you.
As you probably know through
several news streams
, the Archdiocese of Los Angeles released files on Thursday of priests accused of molesting children and removed retired Archbishop Cardinal Mahoney and an auxiliary bishop from duties in the archdiocese. You may review the files released by the Archdiocese of Los Angeles
here
.
One of the things that caught my attention was that the period when the greatest amount of abuse incidents took place was between 1959 and 1989, just before the dawn and right after the sunset of the "sexual revolution". You may see the graphic provided by the archdiocese below. Click it to make enlarge it: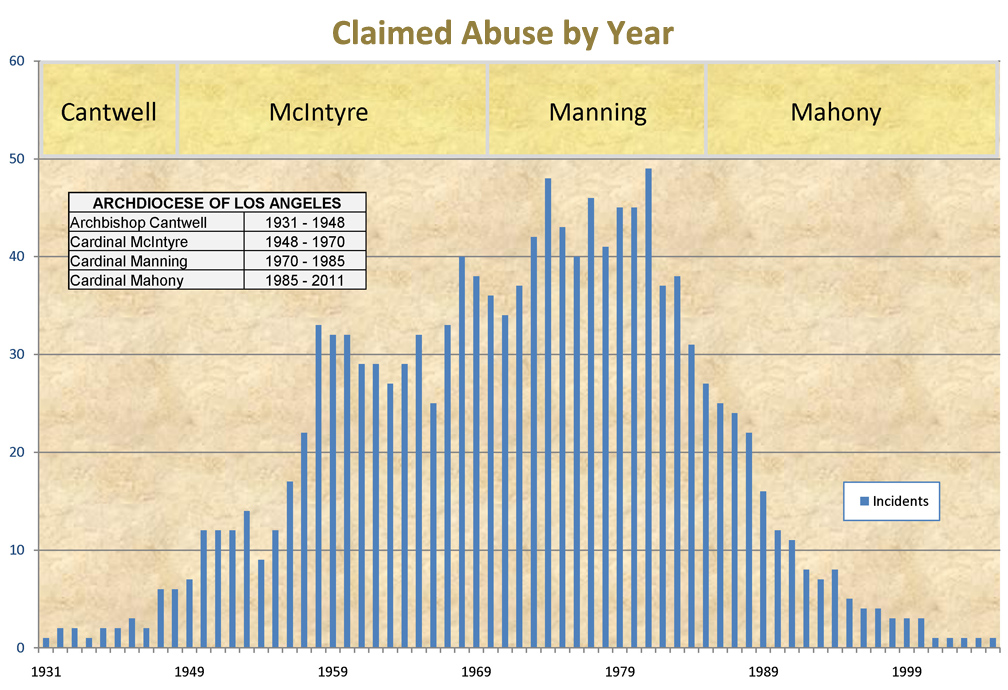 As I went through some of the files and therefore my impressions are contingent on further study, yet I also found out that many of the abusive priests had been born at the turn of the 20

th

century and had been ordained in the first half of that century. I had expected to find the bulk of the abusers trained in post-Conciliar seminaries where priestly spirituality had been replaced by narcissistic psychology, and where men suffering from same-sex attraction had been admitted to the priesthood willy-nilly without attention for possible consequences further down the road; but in at least half of the ordinations, this was clearly not the case. Several abuse incidents were heterosexual in nature, yet still perpetrated on underage women. A number resulted in pregnancies. Overall, this shows that the rot in our priesthood started well before conventional post-conciliar dates advanced by many who object to post-conciliar developments. A "restoration" of pre-conciliar discipline, structures, and methods in seminaries and houses of formation does not present a cure-all.
The lesson I draw from all this is that we ought to pray, fast, and sacrifice for our bishops, priests, deacons, and our consecrated religious. Our men (and women, although none are to be found among the ranks of the abusers in the Archdiocese of Los Angeles, some enabled the abusers but many more protested furiously but were ignored or silenced) have unresolved sins and fractures in their personalities making them susceptible to particular sins. In this they are no different than the rest of us, but they need our prayerful support in virtue of their calling and mission. Jesus called them to be "wounded healers" but the fact that so many of them were unable to heal and voluntarily killed the souls of so many innocents should give us pause.
Let us make this upcoming Lent a period of sacrifice and penance for our men in holy orders and men and women religious, that they may be strengthened at the time of temptation, and that the victims of their abuse be healed and restored in body, mind, and soul.