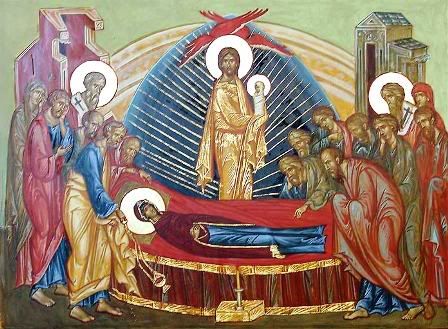 Today we remember a deed of power: Our Lord Jesus Christ called his Mother to himself, in body, soul, and spirit.
For Catholic Christians this means something simultaneously simple and grandiose: that the resurrection of the dead has been verified in Mary, the Mother of Jesus and Our Mother. She has received her crown, and she is as close to God as a mere creature can get, closer to Him than the Seraphim and the Cherubim. The Church rightly sings:
You are truly deserving of glory, O Theotokos, the ever-blessed and most pure Mother of our God. More honorable than the Cherubim and beyond compare more glorious than the Seraphim, who as a Virgin gave birth to God the Word, true Birth-giver of God, we magnify you.
The Church also rightly prays:
Under your protection, we hasten, O Virgin Birth-giver of God. Do not turn away from us in our time of need, but pure and blessed Lady, save us!
Redemption has been completed: A Man redeemed Mankind by dying on a cross and restored our life by rising triumphantly from the dead, thus removing the guilt of Adam; by calling Woman upon himself, he then restored Womankind to her rightful place in this New Eve.
Powerful and glorious are the deeds of Our Lord!
The Lord has called his Ark of his Majesty into his Tent!
This is the day the Lord has made! Let us rejoice and be glad in it!